Leading the way in Utility Surveyor training
05 July 2019 by: Macleod Simmonds
The Personal Development programme for site surveyors implemented over the last 12 months at Macleod Simmonds is designed to ensure that we offer our team the very best training and that they feel valued through continued career progression. We dedicate time and resource to develop our staff and take great pride in our rigorous training programme.
Andy Webb, the Survey Manager at Macleod Simmonds, has been in the industry since 2003 and leads the training and development programme. Andy has a background in utility and land surveying and has been at Macleod Simmonds since 2018. Andy worked his way up the industry from trainee to senior surveyor. Previously to working at Macleod Simmonds, Andy was involved with training his colleagues and quality control. This experience has made him ideally placed to write and implement the training and development programme, that all staff follow in order to progress their careers.
Competency Framework
Macleod Simmonds has a variety of job roles within each department. To ensure that all staff are competent in their roles, each member of staff has a competency framework to follow. When a new member of the team joins us, the first training objective is to provide safe and effective support to the survey team whilst learning the skills to undertake PAS128 utility surveys. With guidance and support, this is achieved in three months. This framework outlines their role and the list of competencies that need to be achieved at each different level. The example below shows what objectives are needed when being a Utility Surveyor.
Utility Surveyor Training Objectives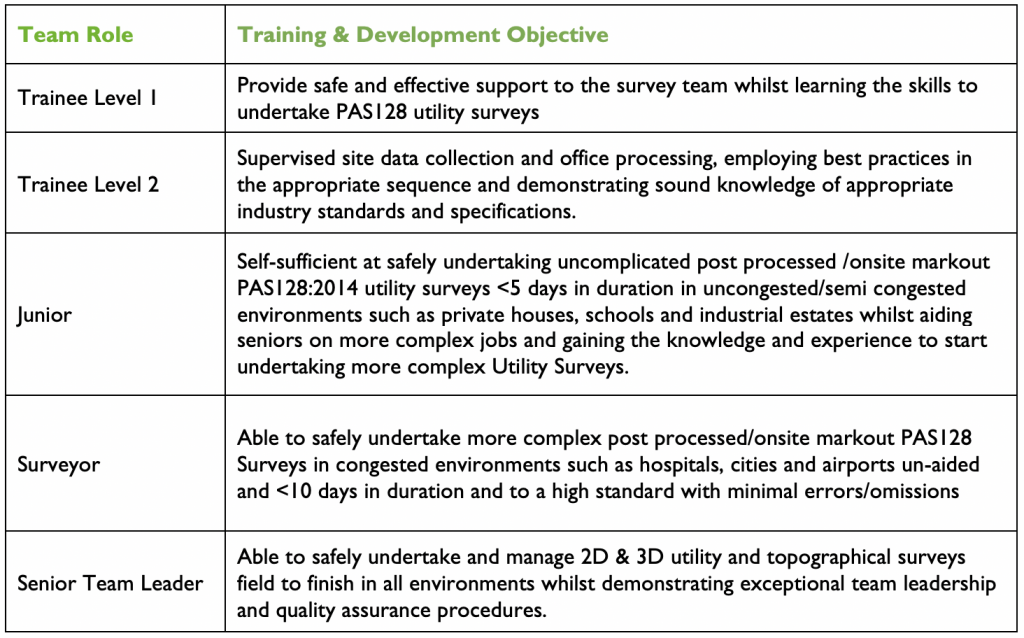 Assessment
Employees are assessed every 3 months, half yearly for senior staff, and training programmes identified for them to attend. To compliment the internal on the job training programme, Macleod Simmonds encourage external courses to build skills and qualifications. Assessments are through a mixture of observations and exams.
"It is very clear for everyone. It's a good way to know where the staff are at with the development. It's a great way to show what level of skills you need, to go up to the next pay grade"
Andy Webb, Survey Manager, Macleod Simmonds
Get in touch
If you are interested in finding out more about working at Macleod Simmonds then please contact us today on +44 (0)330 6781115 or visit our website for Surveying Careers vacancies.
Our clients know that they can rely on the results that we produce, and that their teams – from ground workers to designers- can rely on what we do. With being accredited by The Survey Association for our passion in utilising the latest technology, combined with the deployment of our own proprietary software. We have a reputation in the industry for providing our clients with high quality, accurate and reliable measurement data.