Sinkholes Part 2 – The M2 Sinkhole
03 June 2019 by: Macleod Simmonds
Sinkholes appear in many forms and happen across the world, even in places you least expect. A sinkhole is a hole in the ground caused by erosion or some form of collapse of the surface layer. They can be small or large enough to be danger to buildings, cars and humans.
One of the most well-known sinkholes in the UK, occurred in 2014 when a 15 foot crater opened on the M2 in Kent. On the 12th February 2014, news broke of a Sinkhole appearing on the M2 in Kent. This sinkhole reached 15ft in depth, on junction 5 and 6 near Sittingbourne. Fortunately, the sinkhole had not collapsed the road, however, action needed to be taken quickly.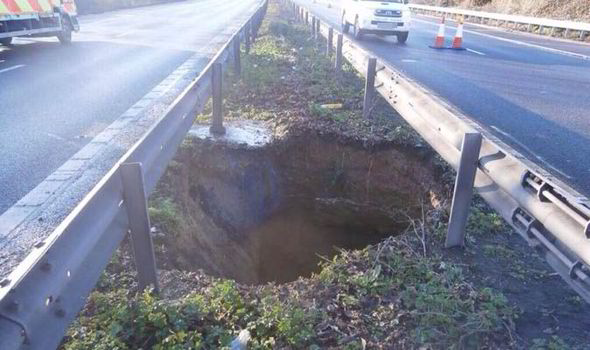 Macleod Simmonds work
Balfour Beatty contacted us here at Macleod Simmonds, to ask if we could investigate how far the sinkhole went in depth and more importantly give opinion on its width and whether the sinkhole could open-up further collapsing the road.
The next day we travelled to the location of the sinkhole, which was by now was filled with 40,000 tonnes of pea-shingle. We carried out a GPR survey using the latest technology.
Upon investigation, we found that the entire area contained shallow reinforcement bars at approximately 200mm deep. Just encroaching on the East-Bound carriageway, adjacent to the visible sinkhole, a potential void was identified together with corresponding fractures, or 'stress' related features, in the construction immediately above. No other visible sign of the void travelling beneath the carriageway could be seen; however, there was a clear indication of other anomalies within the carriageway construction in the immediate area.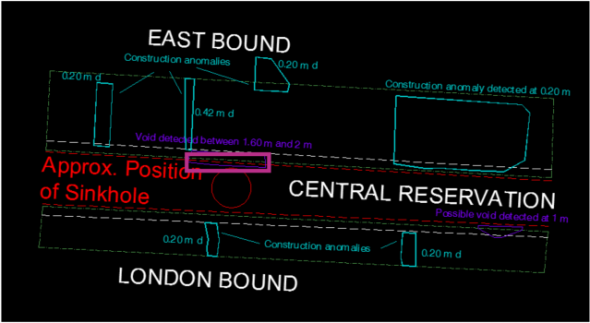 Reporting on the radar results the Macleod Simmonds team quickly concluded that the void did not appear to extend beyond a few centimetres into the carriageway. The ground penetrating radar data did clearly show what appeared to be previous repairs to the carriageway in the local area though, suggesting that the road may have failed in this area previously
Here at Macleod Simmonds, we pride ourselves on providing accurate, reliable, geospatial surveys. We offer services ranging from subsurface imaging, such as on this project to drone surveys. Whether you need to reveal what's hidden below ground or measure what you can see above it, we can help.
At Macleod Simmonds we offer accurate and reliable Ground Penetrating Radar Data Translation Service. Using the latest technology and software, we provide you with accurate data on any anomalies that lay beneath the ground and make recommendations on action required.
If you are interested in finding out more about our services please contacts us on 0330 678 1115 or visit our website www.macleodsimmonds.com for further details.