The Team Celebrates Opening Our Woking Base
06 August 2018 by: Macleod Simmonds
Last Friday we gathered the team all together to share some exciting news. Over the last few months we've been busy putting the final touches on our new Woking office, a new brand identity and website.
Macleod Simmonds are delighted to announce that our new website is now live and our office in Woking is open. The vans have been rebranded, the uniforms have been distributed and everybody at Macleod Simmonds is now armed with a new look and ready for further growth.
Speaking with the team to gather their thoughts on the new office and the new brand, there were lots of comments about how 'cool' the new office is and how 'clean and simple' the new logo design is.
There was a real sense of energy and enthusiasm among the team. The passion for the business among everybody at Macleod Simmonds is clear.
Commenting on the opening of the new office, Craig Simmonds, Managing Director, said:
'The Macleod Simmonds team have a long history in delivering quality information which is accurate, easy to read and above all reliable. This is an ethos which underpins our entire organisation and is supported by our continued investment in our people, whose individual values are in perfect alignment with our company vision.'
The team looked sharp in their new uniforms and the vans were rebranded with the new logo and ready to hit the road.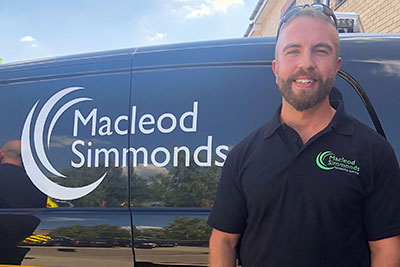 The new Woking base will help us to serve our clients in the London area by offering a more local presence.
As we continue to experience rapid growth in demand for our geospatial surveying services, we are always interested in hearing from people at all levels of experience who are interested in joining the team. For a list of our current opportunities, please visit our careers page.