3D models of what you can't see beneath the ground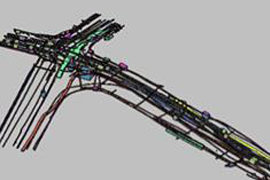 3D models of what you can't see beneath the ground
21 November 2013 by: Macleod Simmonds
The presentation of accurate spatial data has always been a subject that generates interesting conversations. With designers using more and more powerful software packages to visualise and 'Test' their designs within a virtual environment, it has become more important for companies such as Macleod Simmonds to be able to provide base information as full 3D models.
Obviously this is not a new concept but it has been slow to become the 'Norm' within the subsurface surveying market place. Having discussed the requirement for designers to model drainage patterns, ensure adequate falls are present and to be able to optimise designs around shallow utilities, our CAD team have spent some time developing a new 2D to 3D conversion system. Based on a series of routines we can now quickly transform flat 2D drawings into fully rendered 3D CAD models, which are fully compatible with the BIM process.
The overall system also includes a new site working methodology utilising a combination of the RD8000, our GPRHDA systems and the latest positioning systems from both Leica and Trimble.
The resulting deliverable is certainly generating some interest from a wide range of clients!